The journey from Kalamata to the ancient Messini area is a fragrant tableau of lush greenery, highlighted by dozens of colorful wild flowers. Traveling through the Peloponnese olive groves by car, in the shade of Mount Taygetus, I keep thinking of Patrick Leigh Fermor's description of Mani, this primitive and authentic land filled with ancient ruins, old towers and picturesque villages scattered with stone houses, wild creeks and tall plane trees: There is little enough in the Deep Mani. Pigs are the only important livestock with, fortunately, abundant prickly pears to feed them on as well as their masters. A few thin goats keep alive on thistles.
We travel to Outer Mani, in Messinia. It is the end of April, probably the ideal season to visit the region, the time when lupine and wild asparagus grow, right after the local religious celebrations for the annual feast of Ayios Georgios. This is when the Gournopoula season begins, a unique type of roasted pork that one can enjoy in Kalamata and its surrounding villages from spring till fall. Pork, either roasted or cured, has been a staple of local cuisine, whose origins can be traced back to the ancient times and mythology: Hercules' fourth labor included the killing of the Erymanthian Boar. Another myth mentioned the Calydonian Boar, a huge, terrible animal sent by Artemis, the Goddess of the hunt, to punish the King of Calydona who failed to honor her in his rites to the Gods. The boar was killed in the Calydonian Hunt, in which all the important mythical heroes participated; Bacchylides called them "the best of the Hellenes".
Fat is what makes the pork tender and tasty. The secret lies in roasting, which takes hours, depending on the weight.
Pork was also the main type of meat consumed in neighboring Sparta, one of the most prominent ancient city-states. The famed "melas zomos" (black broth) was a staple soup made of boiled pig legs, blood, salt and vinegar.
It is high noon, Saturday, and we have embarked on the quest of seeking for the "ideal Gournopoula", in the Kalamata region. We search for it from Asprohoma to Arfara villages, in tavernas, rotisseries and butcher shops situated on the old freeway, undertaking our own Herculean task, since everybody here claims that "all Gournopoules in Messinia are great" and -of course- theirs is the best!
Gournopoula, or Bouzopoula, as the locals call it, is the culinary trademark of the region of Kalamata, their version of the Sunday roast. Even the smallest Tavernas "showcase" their Gournopoules inside glass displays, situated literally in the street. After a few hours, they all manage to sell out. They start selling it early in the morning and by noon they're out, as many people buy it right after church on Sunday morning, bringing it home along with the sacramental bread.
"Practically all Tavernas on the freeway work with pre-orders and roast precisely as much meat as requested, because Gournopoula can't be sold the next day", says a gentleman in his Sunday best, queuing patiently at Yiorgos, a rotisserie in Kalamata. Yiorgos Konstantelos offers Gournopoula on a daily basis and he is the third generation of the Konstantelos family doing this job; his grandfather was the first to roast pork during local religious festivals. "In the beginning of the last century, whenever there was a festival, he would go to the neighbors who had a wood stove, rent their stove, gather wood, let it burn and then roast the Gournopoula inside a sealed oven, until it was ready", he says. "Then, my father opened a butcher shop, because the most important thing in this job is high quality meat. I opened my own place in 1990, at the age of 28, and I am the first in Kalamata to have built a custom, large size oven for Gournopoula. An electric one, don't listen to people blabbing about wood ovens. Those are good for bread, cookies and maybe for roasting lamb and potatoes. In order to properly roast Gournopoula, the temperature must remain stable, it can't fluctuate from 250o Celsius to 120o. That's what happens with wood ovens, the meat will be scorched on the outside and undercooked on the inside, especially the Gournopoula, which is a large animal. It has to be greasy. The fatter it is, the best it will taste and the meat will be tender. This won't do for people buying pork from their butcher, since much of the animal is wasted, you end up with half its initial weight. Melted fat is what makes pork tender and tasty. The secret lies in roasting, which takes hours, depending on the weight. The pork, either whole or cut in half, is placed on stainless steel grills and roasts from the evening until the morning after. It's important for the meat to properly strain from its fat, because everybody, now, asks for lean portions. In the old days people used to eat fat, they asked for it, since they travelled from here to Tripoli on foot".
He tells us that on the days of local religious celebrations and festivals, people consume as many Gournopoules as they do in the rest of the year. "About 4 to 5 thousand pigs are eaten in the area, on the Holy Trinity feast" he proudly says, "and there's a mile-long queue at our place. Once, the Traffic Police came and I was arrested, because the clients waiting in line had blocked the traffic!". Today, the place is run by his sons, Antonis and Nicolas. "We even send orders to Athens", Nicolas says, "we package the Gournopoula and send it over with a taxi". People from Messinia living in Athens place orders when they celebrate something, or on Sundays, when they reminisce about their place of origin. Every single detail is important: the preparation, the right amount of salt, fresh oregano, even the baking paper in which it is wrapped, for it must seal the juices inside. It is hard work, it takes all night and requires great talent and attentiveness in roasting, because if you take it out and it's not good, you're done".
Yiorgos' Gournopoula is tender and tasty with a thick and crispy skin, but the best Gournopoula we tasted on this journey came from Platanos, the historic taverna in Artemidos street, in the heart of Kalamata. "We opened in 1910 as a Kafeneion and Ouzeri, serving small meze dishes. Then, my grandfather and grandmother started roasting Gournopoula and later my mother and father added new dishes on the menu, using fresh ingredients from our farms", Vasia Koumoundourou says. She is the one running the place, nowdays, with her two sons, Filippos and Tasos. The skin of the Gournopoula they serve is special, reminiscing of chips, it smells of allspice, thyme and garlic and has a slight lemony flavor. It is served with dried wild thyme, coarse salt flakes and potatoes roasted in the meat juice.
Tasos informs us that "they filmed a scene for  Zorba the Greek, an international production shot in Mani, here, yesterday. They wanted a traditional Kafeneio and they came to us. Our patrons come from all walks of life, we serve construction workers in the morning and families in the evening. Gournopoula is our specialty, that's why it is so cheap, it's a form of advertisement. The portion costs 5.50 euros and you can order half, or even a quarter portion. Workers and elderly men come at eleven in the morning for a glass of tsipouro, accompanied by a 1.40 euro meze and they're happy. We harvest the herbs from Taygetos mountain ourselves. My mother was born there, all our vegetables are homegrown and we buy the sows from a breeder on the mountains. I left Athens and came back here recently, because this is a good way to make a living".
"The meat must be prepared in a certain way, using olive oil, oregano, salt and garlic", Vasia points out. "The meat is marinated for an entire day and on the next, it goes in the oven and roasts slowly. The crust becomes crispy; towards the end we turn the heat up. We have no problem sharing our recipe, but it's hard to make a good Gournopoula at home. The oven and the many hours of preparation make all the difference". Two tourists sitting at the next table, an American and his Japanese wife are having frappé coffee with Gournopoula, a slightly funny image. Once the waiter realizes what is going on, he treats them to some tsipouro. "Gournopoula is accompanied with beer, wine, tsipouro, ouzo, or even plain water", Vasia adds, as we are leaving. "The dish can be enjoyed as it is, however you can compliment it with grilled bread and capers, Tyrokafteri (a spicy feta cheese spread), Tzatziki, or Skordalia (a thick garlic dip)".
Gournopoula is an ancient culinary treasure of the southern Peloponnese peninsula. Pork was always a cheap meat and pigs were easy to breed: they ate leftovers, figs, prickly pears, acorns and oilcakes. However, the dish's recent history is directly linked to the Ottoman occupation era. Back then, people would roast lambs and veal only to have the Turks come and snatch their food", Vasia explains. "That is why the locals started roasting pork. They stuck to it and Gournopoula was served during local feasts; there is an abundance of those in the region. Until the '60s this was the only time of the year the Gournopoula was served; it was very rare to find it as a dish in tavernas and rotisseries. That came about much later".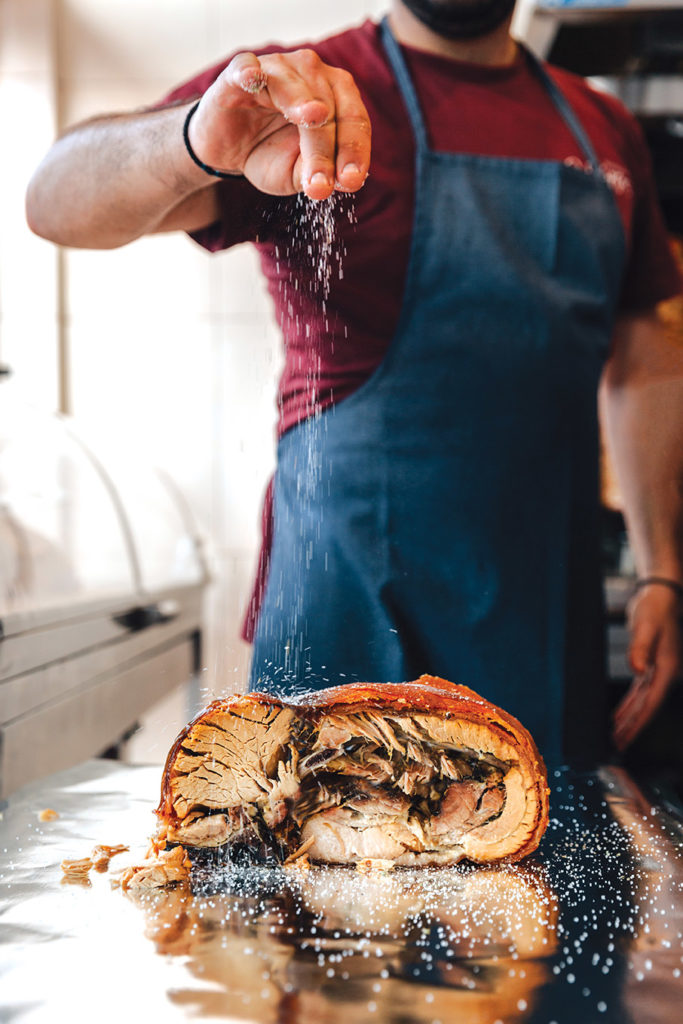 The story is as follows. Since Muslims don't consume pork, the residents of Peloponnese and especially Messini, started breeding pigs and allowed them to circulate freely in the city, which acted as a deterrent to Turks, who were very keen on cleanliness. To avoid their children being drafted by the Ottomans, Greeks also let their children roam around dirty. This "defensive squalor" is confirmed by the travelers Cornelius de Pauw and Chateaubriand, when they later visited Peloponnese. This intentional foulness along with the mass breeding of thousands of pigs – an animal considered as cursed by Muhammad for being unclean – managed to keep the Ottomans at arms length from Messini, who during the 300 years occupation of Greece, never resided there.
This 300 year-old tradition was abruptly cut in the 1920's. Until then, pigs "outnumbered humans" as Dr. H. Koryllos sarcastically writes in his travelogue "Walking from Patras to Kalamas", in 1890.
In 1920, criers relayed the following message to the local population: "Mr. Constable informs you that as of tomorrow it is forbidden for pigs to circulate in the streets, for policemen will kill them and you won't have the right to complaiiiin…" The next day, when policemen came across the pigs on the streets, they would corner and pierce the animals with their bayonets, compelling the owners to instantly put them in a baking sheet and roast them in their skin. Then, the roasted animals were carried to the market and their meat was an instant sell-out.
In religious festivals, the dish was prepared beforehand and it was far tastier. Theodoros M. Tserpes states that this was "probably due to careful baking in traditional ovens sealed with dough, where the Gournopoula roasted slowly, resting on vine branches".
Our next stop is Dimitris Skatsikis' butcher shop, on the old freeway. On Sunday mornings, his Gournopoula is on display, welcoming hungry churchgoers. "They come after the service", he says "and we're sold-out in an hour. It used to be a seasonal dish, because it started being sold on Ayios Georgios feast day and stopped on Ayios Demetrios feast day (October 26). Nowadays, some places serve it throughout the year. We also do that, but only when people place an order. I have been working at the butcher shop for 37 years. It was my grandfather, Yiorgis, who started it, then my dad, Panayiotis, took over and now it's me and my brother who run the place. We used to roast the Gournopoula on charcoal, in a pit, then in a wood oven and now we use an electrical oven. In the old times, it was prepared only for festivals, now we do it every weekend, on holidays and on May 1st. He shows us a piece of the roasted animal that an old man sends to Foinikounta as a gift from Kalamata. They also cater weddings, baptisms and celebrations taking place in the area. "Gournopoula is a customary dish. I always roast the females. They are much more tasty. Males are leaner, this is why it's called Gournopoula (female pig)".
It is hard work, it takes all night and requires great talent and attentiveness in roasting, because if you take it out and it's not good, you're done.
Kalamata is the land of Gournopoula, in other regions of Greece people don't consume that much pork. In Tripoli city, they roast ewes, goats, the same goes for Sterea Ellada (places in central Greece). An acquaintance of mine opened a Gournopoula joint in Crete and people wouldn't eat it; they prefer lambs and muttons. A month after, he packed up and left. Gournopoula sells for 10 euros a kilo, but connoisseurs opt for Bekri Meze, the head, which costs only 6 euros. "It can be eaten after two days, or even three, it doesn't have to be hot out of the oven – it's a matter of personal taste – and the skin stays crisp, if you don't cover it up. However, once you warm it, you should never put it in the fridge again, you should only carve out the piece you intend to eat and warm it up. One must be very careful, as it easily goes bad". He insists that we try his meat. It is tasty and the skin is crispy, with a distinct flavor. If you don't relish a strong rustic taste, then you wouldn't enjoy it, it's obviously meant for trained palates.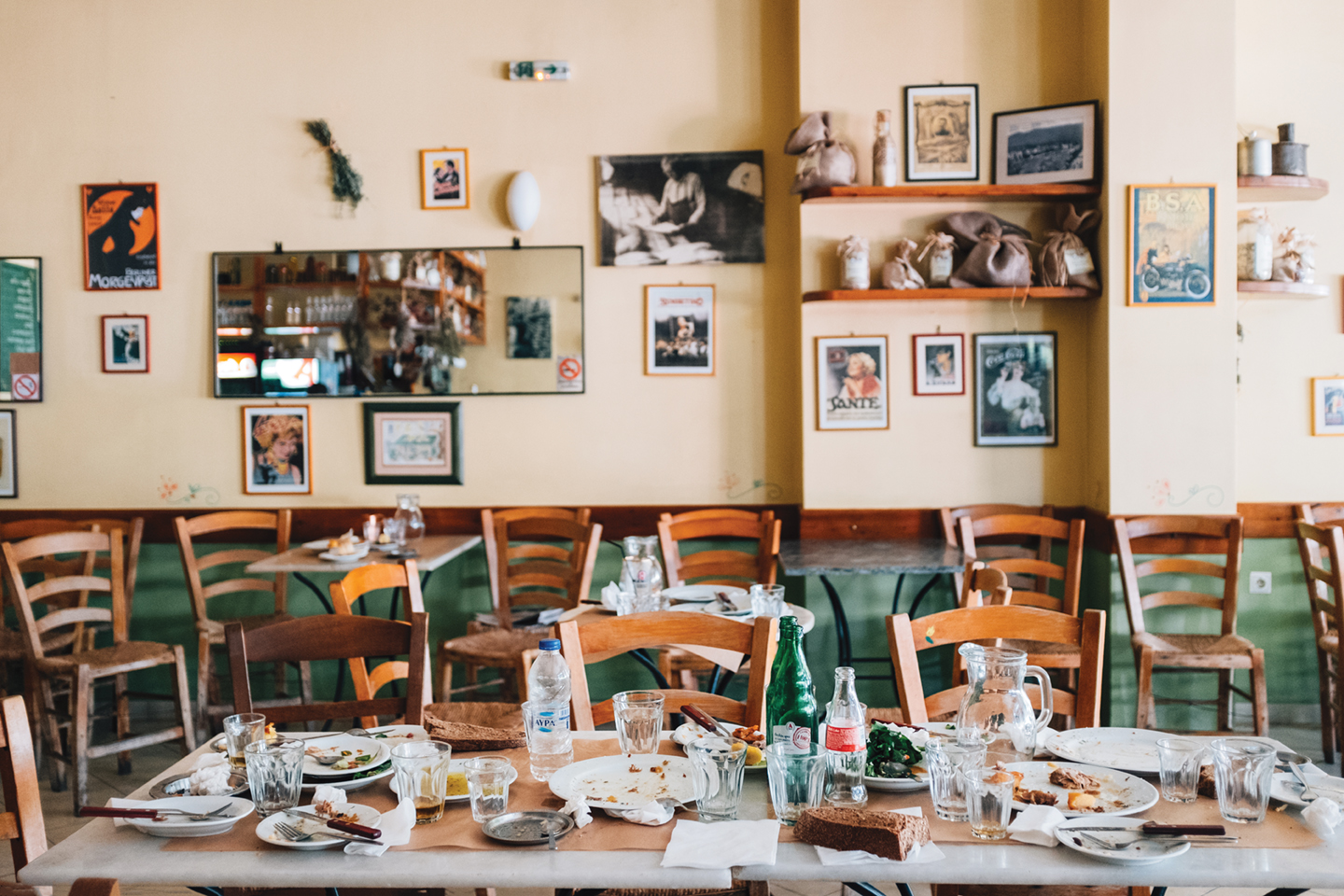 While waiting for his 4-kilo portion to be packaged, a heavily moustached guy intervenes to clarify that the proper name is Gournopoula and not Gourounopoula: "It comes from the word Gourna (trough) and not Gourouni (pig). They named it Gournopoula, because it wallows in troughs". This is probably true, since the medieval word for pig is Grouni and the Laconic word Groni means sow. Hesechius refers to Gronades, as the female pig. The ancient Greek word for the pig is Hoiros.
Our last stop is in Arfara village, at the Gournopoula production plant of Spyros Festas –a family meat business dating back to 1958– bearing a resemblance to an operating room. "My father opened a pigsty in 1973 and we also had a butcher shop in Kalamata", he says. "After the 1990 earthquakes, we closed the butcher shop and opened the production plant here. We only process pork, no other meat: fresh meat and cured pork in olive oil, charcuterie and sausages. We also produce a special sausage with Sfela (a local cheese), olive and oregano, as well as the traditional sausages with leek and orange".
He showcases the whole process to us: how the carcass is cut, how the backbone is broken, how they put carcasses on the spits, salting and sewing it up, until it's ready for roasting. The plant is ultramodern and impeccably clean. Carcasses are laid on a table and the employees, in their white coats, look like surgeons ready to operate. "We can process up to 24 porks", Spyros explains "and distribute the product anywhere in Greece, whenever our clients want us to. We own specially modified isothermic cars and we cater to many events in Athens, Messinian festivals, weddings, baptisms etc. We buy livestock from Olympiada, near Preveza. One roasted pig usually serves up to 150 people, our gournopoules weigh approximately 68 kilos, we don't process suckling pigs, here. Messinia is the only region where people don't eat suckling pigs. As all piglets are vaccinated the moment they are born, they must grow over 40 kilos in order for their body to fully eliminate the drug".
He makes it clear that in Messinia Gournopoules are exclusively roasted in the oven. "Nobody uses spits in Kalamata. Sows are too big, spits can't bear their weight and it all tumbles down. Ovens make great tasting pork. Even if the spit could bear the burden, roasting it for nine hours would drain the meat of all its juices and fat. Placed the on grills in the oven, it roasts uniformly with the fire underneath, though it doesn't sit in melted fat, the meat doesn't dry out. The best part of Gournopoula is the ribs".